Best Swiggy clone!
Swiggy Clone for food ordering and delivery marketplace!…
DeliWare Swiggy clone is the best online food ordering and delivery script of 2020. It has inserted with the sophisticated features and vast algorithms to make it user-friendly. It has incorporated with smart admin dashboard, restaurant owner dashboard and rider/user app whose functions makes DeliWare the best Swiggy clone script of 2020. It is white-label solution and customizable smoothly. It has built in open source platform for customer-friendly interface.This clone solution has been developed considering wide audience target and make your brand's presence possible to the unreachable. This has developed to burgeoning your food delivery business considering significant growth of food delivery services in food marketplace.
Why DeliWare Swiggy clone?
DeliWare Swiggy clone is the clone app of renown food delivery giant Swiggy to let customers avail its new and advanced features at any place any time. It has the distinctive features and attributes which you hardly examine in other competitive solutions. This promising Swiggy clone will render you the lucrative outcomes in food delivery business with its state-of-the-art algorithms inserted in its dashboards and panels.
DeliWare Swiggy clone script consists of Admin super dashboard which has fixed many smart buttons and sub panels which assists admin to easily scroll through all the essential details. Likewise, it helps restaurant owner to view/edit/delete the details and data. Similarly, rider can use the app smoothly by assigning or rejecting the order and utilizing advance navigation system installed in DeliWare Swiggy Clone. Whereas User app is specifically built for users who will purchase and placed the orders from the app.
Not just this, our whole team of experts will assist you setting up the entire app and launching the final version of the app once you like and agree to purchase the DeliWare Swiggy Clone.
How DeliWare Swiggy Clone Script works?
DeliWare Swiggy clone has two advanced super dashboards operated by admin and store owner, respectively. Admin of DeliWare can easily manage the coming orders. He can edit/delete/view the items smoothly. Store owner can run DeliWare dashboard and manage its exquisite functions seamlessly whereas Rider and user operates this suave app with smart user-friendly interface of DeliWare.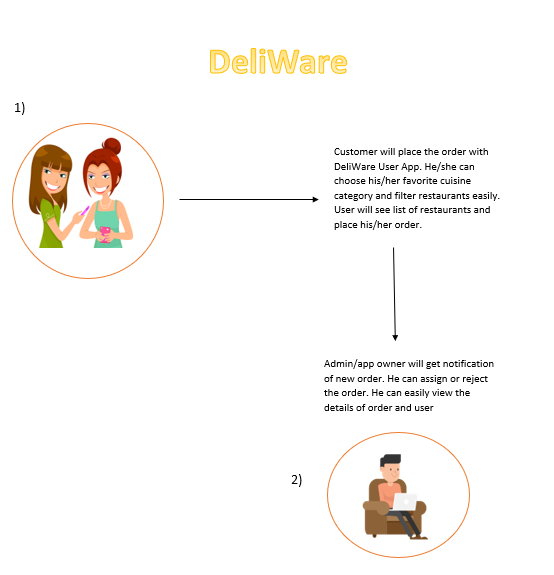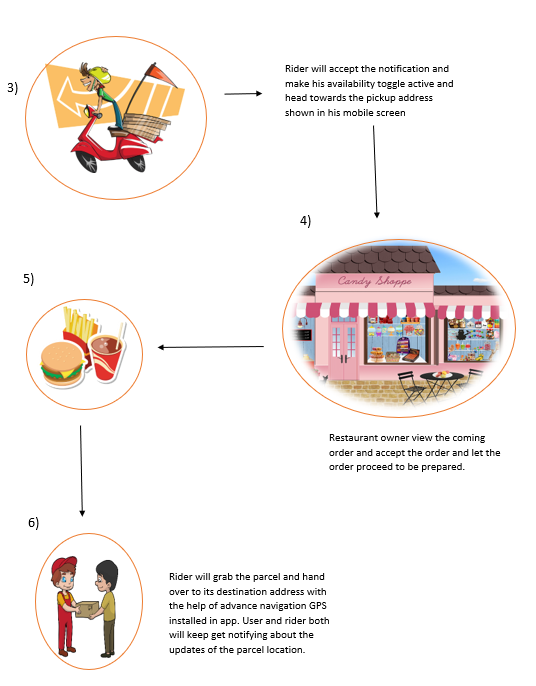 A restaurant can signup and upload their food items into our DeliWare, and the customer looking to order food can browse through and order food online. If a customer order food, a notification reaches the corresponding restaurant. There the restaurant can accept or reject that order. If the restaurant accepts the order, delivery boys receive a notification. As a result, whoever accepts the order first based on their availability toggle can pick up that food and deliver it to the corresponding customer. Admin will receive some commission amount whenever a customer pays to a restaurant. Customer will get notifying about the regular updates/ marketing notifications from admin or restaurants about new promo codes and upcoming offers.
Sophisticated Features of DeliWare Swiggy clone script:
Customer or front-end panel, which contains popular foods, food items, menus, restaurants, offers, etc.
Partner panels contains orders, past orders, order history, payments, transaction history, etc.
The admin panel has all the essential options present in it. Some of them are the menu, pages, blogs, languages, and user management feature which can be handled easily from the DeliWare admin super dashboard.
Our DeliWare Swiggy Clone has Android app available for Customer, Store Owner, and Delivery boy.
To make DeliWare's presence available across all platforms. DeliWare iOS Apps are smoothly available for Customer, restaurant owner, and Delivery boy.
Best framework of elegant syntax, and it makes use of object-oriented libraries.
Easily create the pop-up notifications on the screen in order to get the attention of the customers and notifying them regarding all vital updates of offers and new promo launches etc.
Well organized dashboards for admin and store owner embedded with smart features to make easy for utilization.
Promising sharp functionality of Swiggy clone rider/user app.
Manage multiple payment methods and gateway transactions. Flexible payment methods like card payment, cryptocurrency, net banking, COD and so on.
Customers can enjoy specific promotional codes during the festive season, so prompt customer satisfaction.
Customer reviews bring more new customers. The feature is built-in for the collective customer reviews and ratings for each restaurant
Multiple language feature which in fact lets on wide range of people to use.
Managing catalog of rider details, vehicle details, license date, user details and so on from admin super dashboard.
Ad banner plays a vital role in generating more sales. Hence, this extension lets on creating and managing ad banners.
Manage categories, cuisines and menu items, restaurants timings from dashboard catalog.
Easily review and manage the rider payouts and restaurant payouts.
Why Choose Us?
Our energetic technical team is always ready to help you with all your technical queries and we assure you to provide the full technical support. Swiggy clone script is built by the award-winning International Company-Bytesflow Technologies.We have the team of adroit professionals who toil day night to render our clients the high-toned services of our product. We help to build you top notch delivery business with the best services ever. Once admin likes our product, he can purchase Swiggy clone. He can rename the brand and customize the app how he wants.