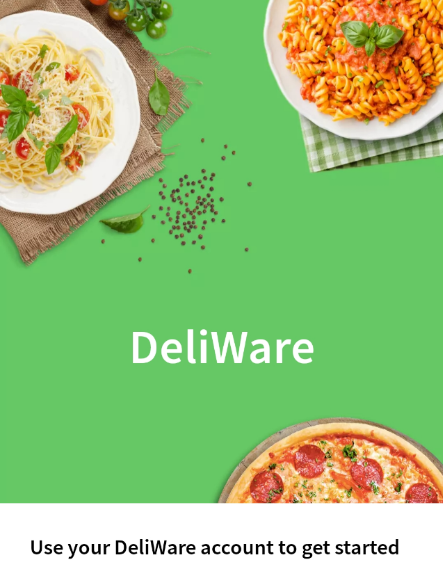 Definition :
Food delivery app script: Food delivery app script is a clone script written in PHP or developed in open-source software. Food delivery script is basically an online food ordering script that runs with smart and strong functionality. Users can create and add new Restaurants, menu options, addons, etc. Moreover, the best food delivery app script consists of four fundamental key panels those are Admin Panel, Restaurant Panel, customer app, rider app, where admin, restaurant, rider, and the user can utilize the features of the script.
Best Food delivery app clone script of 2020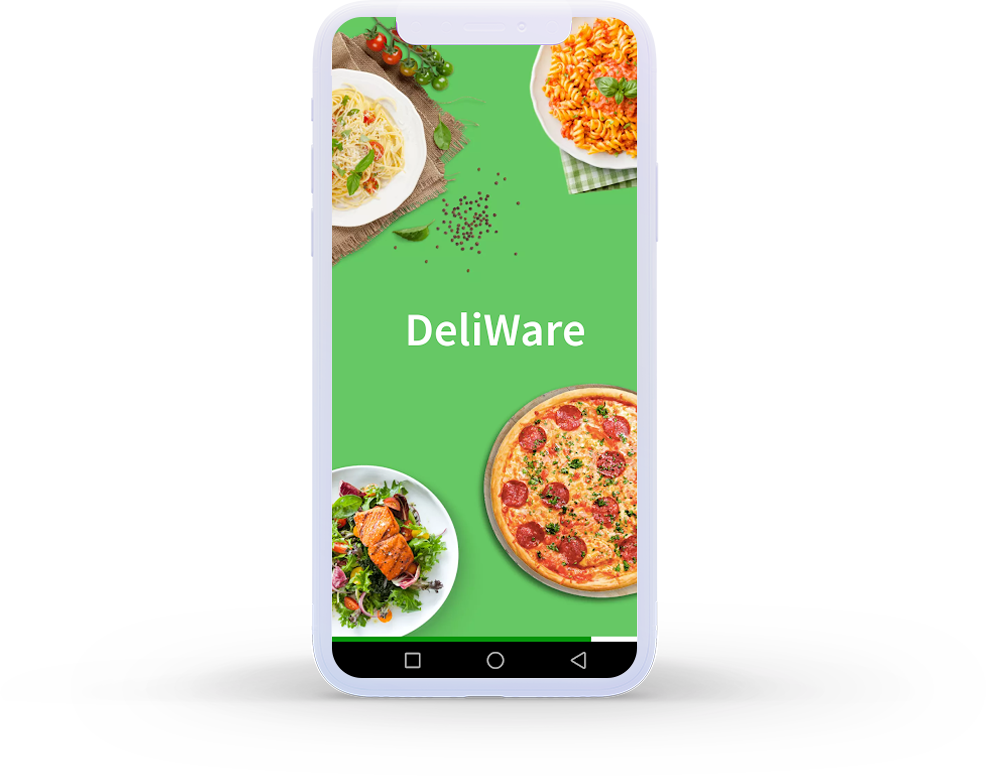 DeliWare is the most popular and best food delivery app script of 2020. It has got huge acknowledgment and appreciation across the world. Our clients are immensely impressed with the work our team has done to develop this marvelous script with such a robust and smart functionality. DeliWare is the food app script like UberEats, Swiggy, Postmates, Grubhub, etc. It is open-source software and has been built for providing food delivery script to our adroit Entrepreneurs. This script is a 100% customizable and white label. It involves various robust functions and exclusive features to help you run your Food Business smoothly and Outstanding.
Why DeliWare is the best food delivery app script of 2020?
DeliWare is the best food delivery clone app script of 2020. DeliWare has additional features that can help entrepreneurs multiple their earnings. Features like advance navigation, geofencing feature equipped with the latest technique, push notifications, option to customize your site, logo, color and so on.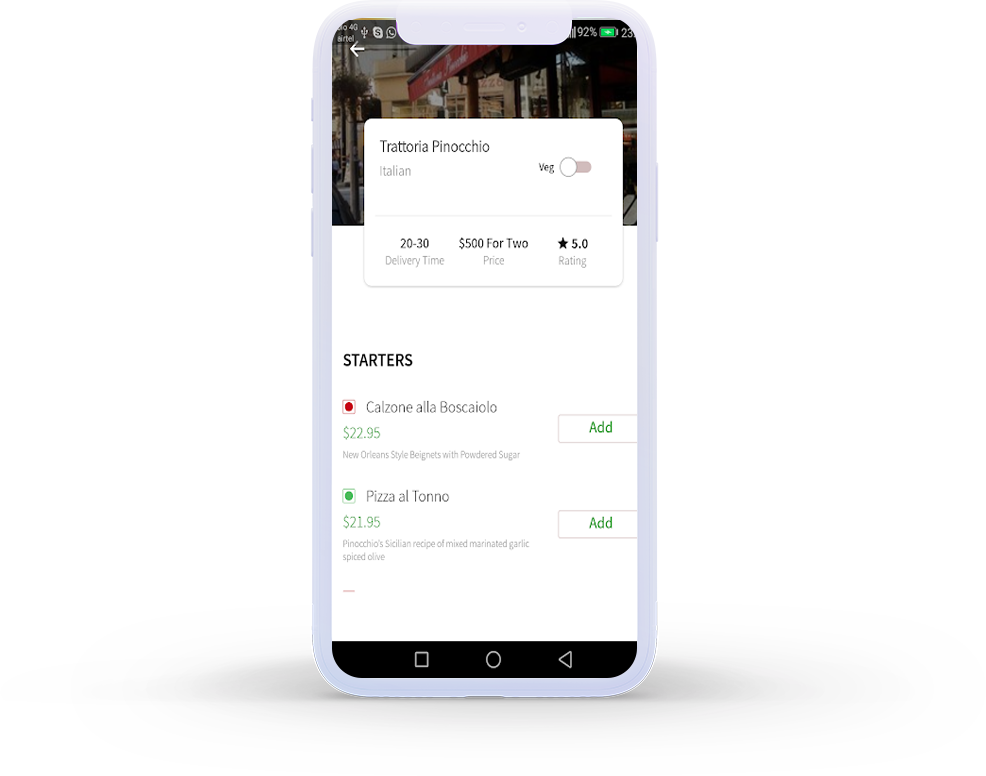 DeliWare is the Postmates like food app script which has been developed for the food delivery business like Swiggy, Ubereats, Grubhub and so on. DeliWare comes with multiple functionalities and strong features which makes DeliWare one among the best food delivery script.
Admin Dashboard :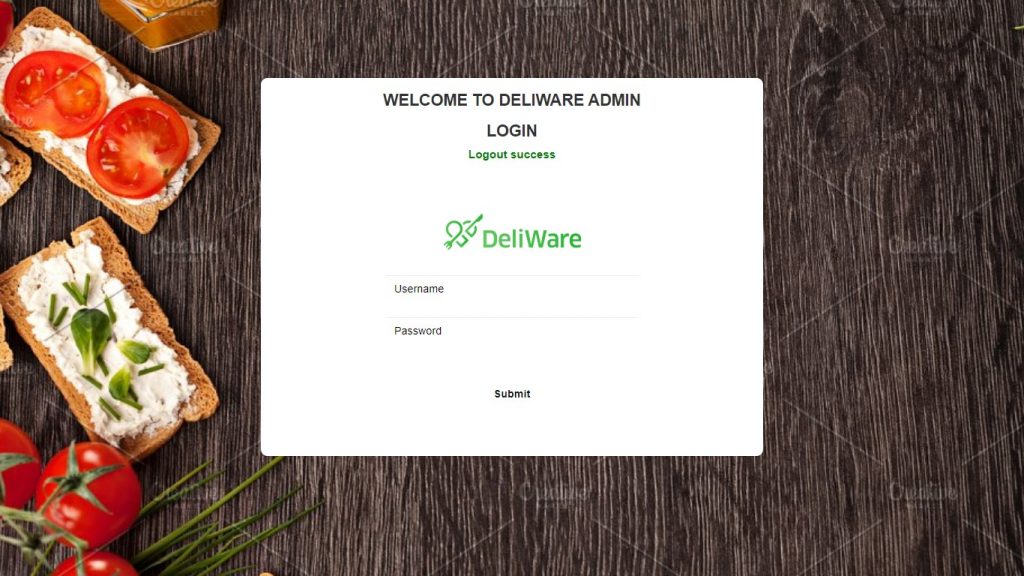 Admin Dashboard of DeliWare manages the successful scrutiny of all activities happening inside the app. Administrators can manage the app with the help of admin panel. DeliWare's Admin panel renders features like order Management bar, under that admin can easily manage orders. Activities like adding new order, removing order, editing order, keeping track on order and view the order details thoroughly.
DeliWare's admin dashboard has second key feature city Management, under this bar admin can manage all areas and geofencing feature. DeliWare comes with modern tracking system and geofencing algorithm which assists in tracking the pickup persistently. Likewise, admin can add new area, city, country or delte the area as per his wish.
Another main feature of admin dashboard is food management where admin can view all the food product list with different categories. Admin can add new mwnu options, add ons, and also delete the menu if not required. Admin can manage payouts from the dashboard like restaurant payout, driver payout, etc. He can have record of amount which is to be paid to restaurant and driver.
Admin can add new documents like aadhar card of rider, vehicle license, RC insurance of his vehicle in the document management bar. Likewise, admin can edit, change and update the settings of the site if required
Restaurant Dashboard: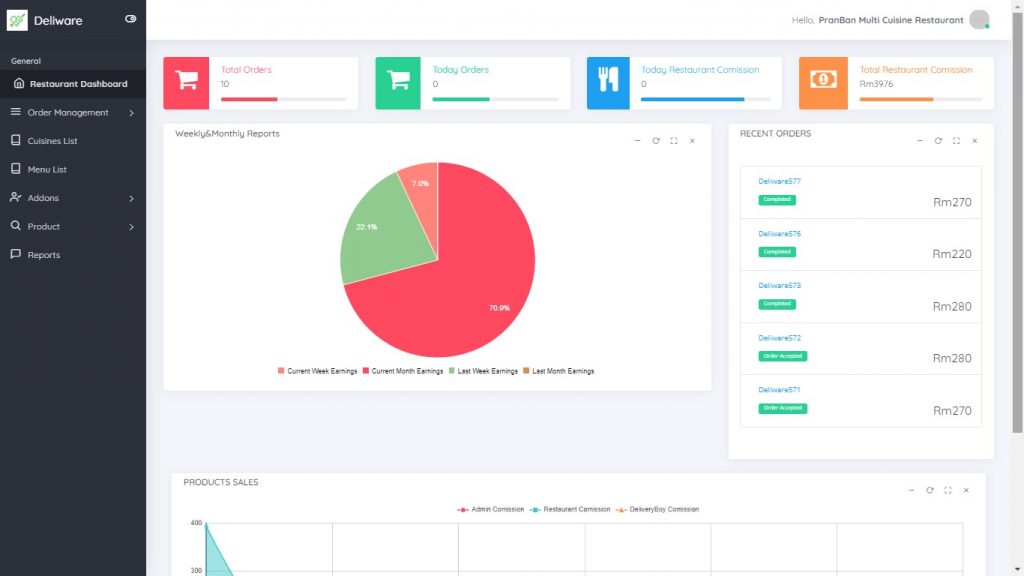 Restaurant Dashboard of admin consists of multiple functions which give restaurant owner liberty to manage and track orders smoothly. The restaurant owner can view the incoming orders from the panel. He can accept/reject the coming orders as per his own demand. He can easily view the processing orders list and keep a track on the pickup orders.
Once the order is prepared, the restaurant will hand over the parcel to the delivery man which will further lead towards the customer location. A restaurant owner can add new menu options, add-ons, and categories. He can also edit & remove the menu options and add-ons. Restaurant owners can launch the new promo codes and let users avail them.
Customer App: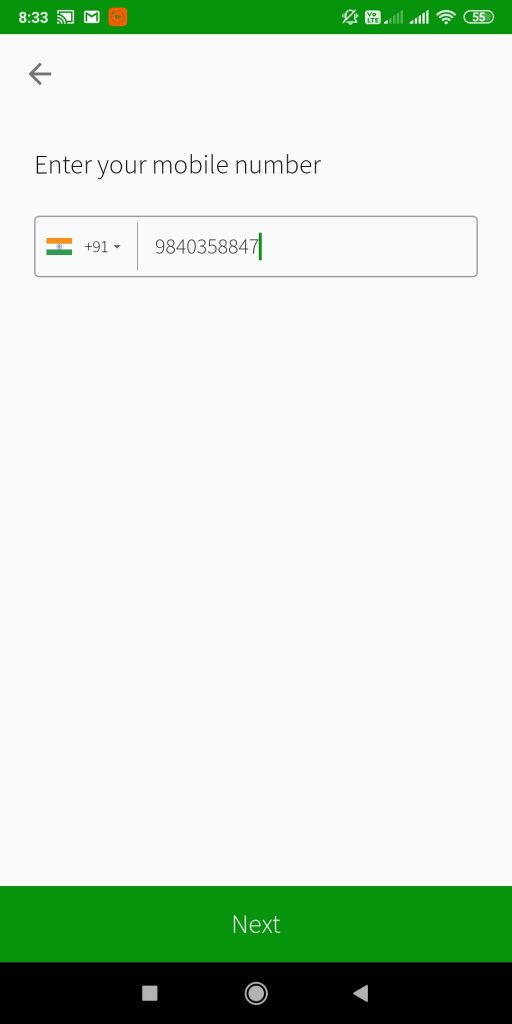 Customer can easily login or signup to the DeliWare account. Once login, customers can utilize this user-friendly app which is very easy to operate. DeliWare food delivery app script shows multiple restaurant options with the veg & non-veg category. customer can choose his favorite restaurant and opt for his favorite menu with the add ons. Customer can view the final cart value and add the coupon code or promo offers if available. this food delivery app script is best among all. DeliWare gives access to all payment gateway platforms for users to complete the transaction. once the order is placed, the customer can keep track of order until it is placed safely to the location.
Rider App: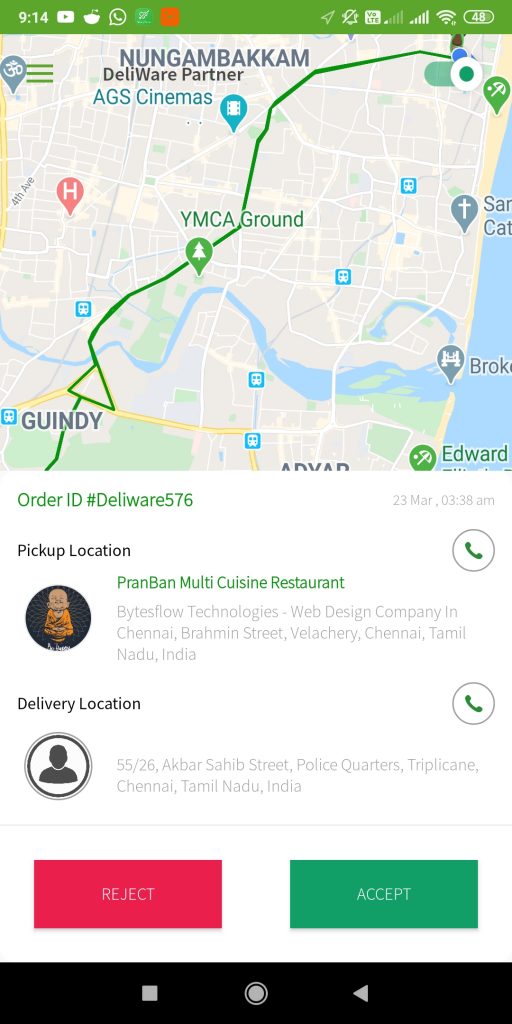 Rider app exhibits multiple functions for the easy interface with the driver. The rider profile would be built by Admin. Once the profile built, a rider can easily sign in and start using the app. Rider can view all new orders and choose to accept or reject the order. He can also mention the timing of his availability. Once the rider assigned the order, the pickup location and delivery location would be visible on his phone screen. He can head towards the given pickup location and easily grab the parcel from the restaurant. The rider will receive a notification on his phone regarding the regular updates of his arrival to the restaurant and his current location. A rider will dispatch the parcel and finally verify the code and delivered it to the customer. A rider can also see his past orders from his history in the app. Rider app comes with the advanced geofencing feature in the app which assists the rider in navigating effortlessly.
Conclusion:
DeliWare is the best food delivery app script of 2020 which has brought sky-high success to many user's businesses. This food delivery app clone script consists of multiple features and robust functionality, DeliWare is the best and popular among our clients and it has been always admired by our customers. This postmates like food app script has developed by Award Winning International Company – Bytesflow Technologies. We have an expert team of professionals working day and night on this product to enhance it better and give the final version the best look. You can also visit our other services and products to learn more.