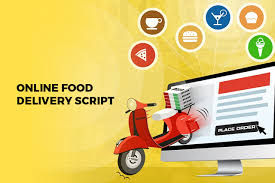 How online food ordering script services work?
Ordering food online has become a popular trend now. From middle class to high class, all types of communities love ordering food from outside and enjoying with their companions. Ordering food from outside is affordable and reliable. In this way, customer who has ordered food, restaurant who is food provider, rider who delivers the food and admin who is the owner of the app and manages this process, all receive benefits in the process.
The online food ordering process is very simple and divides into four categories. All mobile-based food apps follow the same online food ordering process model. In this entire process, all the parties can get the equal advantage of the food ordering system. The online food delivery app model is very simple and followed by all clone script such as ubereats clone, postmates clone, grubhub clone.
Our food delivery app script is based on the same model. We have been providing a clone app script to our clients for a long time. Our products and services have always been acknowledged by our valuable clients. Our team of professionals always work behind the screen to provide the best outputs that our customers always admire.
The model is illustrated as follow: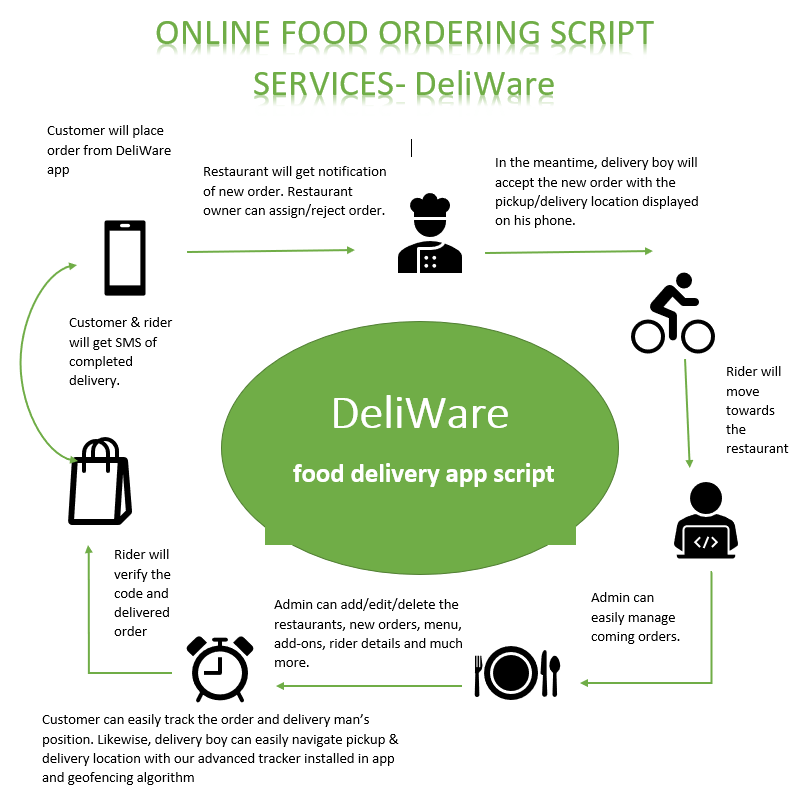 Our Award winning International Company is the best mobile app development company We have the adroit and skilled professionals who look after all your desires and demands regarding the app script. We provide different scripts with different platforms on various subjects. Deliware is one of them, written in PHP and developed in Opensource software. This software app has been built with robust algorithms which make DeliWare unique and special.
The above mentioned process in flow chart is followed by all mobile based apps. This is the fundamental process of online food ordering system. The flow chart depicts the steps with brief illustrations and presented icons of the online food delivery phenomena.
Customer will download the app from the app store and signup to create the account
customer will choose his favorite restaurant and menu options.
customer will place the order and by viewing final cart value.
customer can use the promo codes or any offers available to him.
Customer can complete the transaction with any payment gateway.
Restaurant will get new order request to assign or reject the pickup.
As per its demand , restaurant will accept/reject the order.
once restaurant owner accepted request, food will get prepared.
Driver will get the new request on his phone.
As per his availability, he can accept/reject the request.
If rider accepts the order request, he will move towards the restaurant address shown on his phone.
Rider can easily locate the pickup location with the tracking system installed in the app.
The restaurant will be prepared the food and hand over to delivery guy.
In the meantime, Admin/app owner can view the new orders and processing orders List.
Admin can add/edit/delete the orders,restaurants,menu options as per his demand.
Admin can also launch new promo codes and offers on the food products.
Admin can send mail and message to users, restaurant owners or riders easily.
At last, delivery man will move towards the delivery location and verify the code with the customer.
Once the code is verified, Customer can receive his order.
Food will be delivered to its destination smoothly and effortlessly.
Visit us to know more about our latest services. Our food delivery app clone is available for all android users& ios users. You can easily contact us and know more about DeliWare 's features and functions. Food delivery clone app script is customizable and hence, changes can be made once you like our script. Our services are always present 24/7 for you. Once you Like to purchase our script, later process and setups can be done easily and effortlessly by our professionals for you.